TURN YOUR GAMES STORY INTO AN OPPORTUNITY
Whether or not you are active on social media, come Games time, people will be paying attention. And whether or not the press has followed you or your sport to date, come Games time, they will. So what does this mean for you? Opportunity.
FIND: MEDIA PROTOCOL & BUILDING YOUR PERSONAL BRAND on your Team | Équipe mobile app! (ANDROID | iOS)
By understanding protocols and best practices when it comes to media and social media use, you will gain confidence, control and have less fear of the unknown. It's another way for you the be a master of your environment, and set yourself up to be your best when it matters most.
IF YOU'RE NOT ONLINE ALREADY…
…don't start now. This is your opportunity to let your performance and behaviour at Games speak for itself. And that's awesome, simply because of who you are. The built-in attention the next few weeks can help that story shine on its own, while you keep doing what you do best.
IF SOCIAL MEDIA MATTERS TO YOU…
… now is an important time to understand Team Canada's Games protocol. This is your opportunity to ensure unwanted, online distractions don't happen.
IF YOUR TEAM HAS GUIDELINES IN PLACE…
…your best approach is to prioritize that policy. Much thought went into those guidelines, and this is your opportunity to take advantage. It's how you can continue to focus on executing your performance plan on the field of play.
EXPRESS YOUR BEST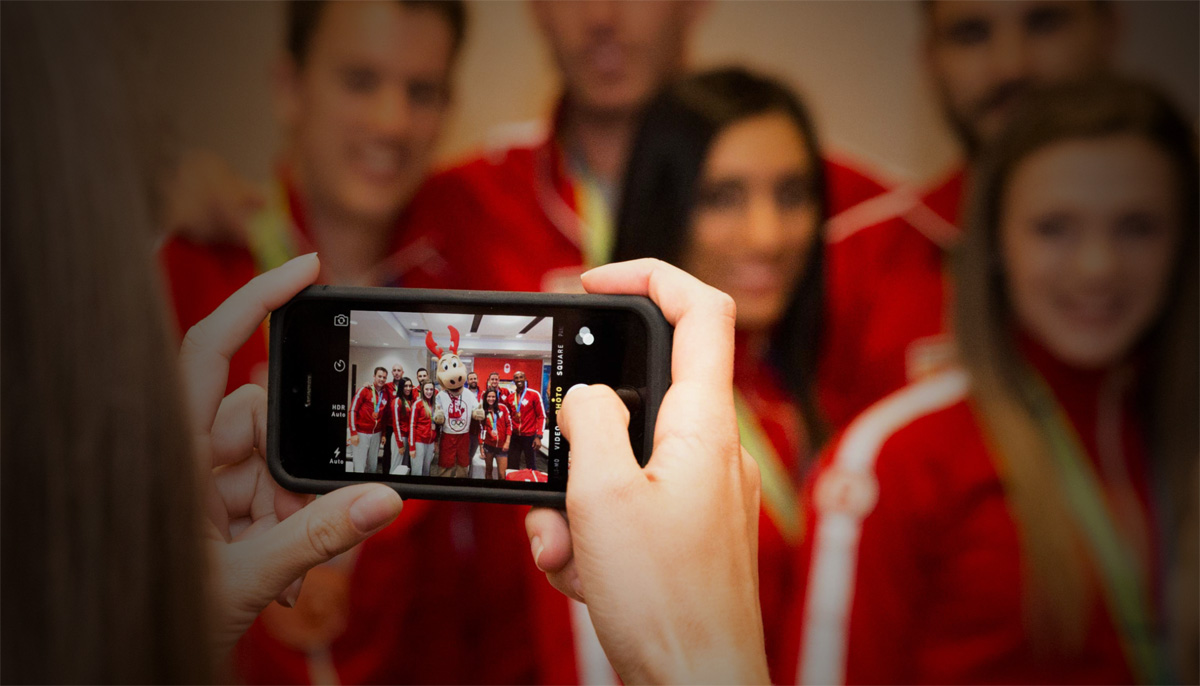 As a member of Team Canada, your voice and your performance is how our country is represented. But, when your voice is amplified to an eager international audience in a timely matter, it becomes more than that. It becomes your chance to widely express yourself, your personal brand and your own story in the most advantageous way possible.
For some, that might mean turning off the phone or locking-down social channels. For others, it might mean learning best practices or asking questions about what is and isn't possible during the Games.
But, no matter what, it's your story.
That's why your teammates at the COC want to make sure you have what you need to tell that story in a way that works for you.
Among other opportunities to improve your Games experience using the Team | Equipe mobile app (ANDROID | iOS), you will find the official media protocol as personal branding guide there. So, before you touch down in Lima, take the time to understand how you can better prepare.
PRESS
Learn the ins and outs of taking a media request inside the Games environment
See how the COC and your sport's media attache can help guide you
Avoid distraction and feel more confident about handling Games-specific media
SOCIAL MEDIA
Check out best practices to boost your personal brand around the Games
Understand the guidelines when posting about @TeamCanada sponsors
Learn how to post about personal sponsors and avoid potential Games-time risk
Work with the COC to help amplify your content
CONTACTS
After reading through the media protocol as personal branding guide, please reach out if you have questions. The COC's digital and press staff, along with your sport's media attache, are key teammates for you at Games — here specifically to help you express yourself in the best possible way.
social@olympic.ca for social media questions
branduse@olympic.ca for sponsor questions
Contact your media attache by email.
(Your team leader can provide that info, should you need it.)
---