HOW TO NAIL THE TEAM SELECTION PROCESS
Manage what you can control, and prepare for what you cannot.
This familiar high-performance attitude has helped guide Team Canada to some great results at Games. But, what happens if the "controllable" things are not clear during the selection process of that team? How can we control what we don't understand? Easy. We find clarity, as early as possible — together.
TEAM SELECTION IS TRICKY ENOUGH.
Nominating a team to compete at any Games is not easy…by any stretch. There are many uncontrollable factors and emotions involved, many boxes to tick and layers of protocol to get through. It's not surprising the process has been identified as a primary difference-maker when it comes to competition. But, as an athlete, coach or support team, it's essential to fully understand what it takes to be nominated to a Canadian Olympic or Pan American Games Team. The good news is these selection criteria are published at least a year before the Games; therefore, we can get after it right away.
DOING IT LATER IS A PERFORMANCE RISK.
High-performers know the risk of last-minute distractions, which is why so much work goes into identifying and managing them Games after Games. Being unclear around the Team selection process shouldn't be one of those risks — but currently, it is. We know the frustration in finding clarity, transparency and communication related to the team selection process. We understand the nuances of managing subsequent selection disputes (appeals) and we realize it causes distraction. The negative impact of these distractions are felt; nobody wants to take away from an athlete's focus on Games preparation.
So, with this in mind — 11 months out from Lima 2019 and 23 months out from Tokyo 2020 — we've broken down the process to help ensure clarity, transparency and communication for you.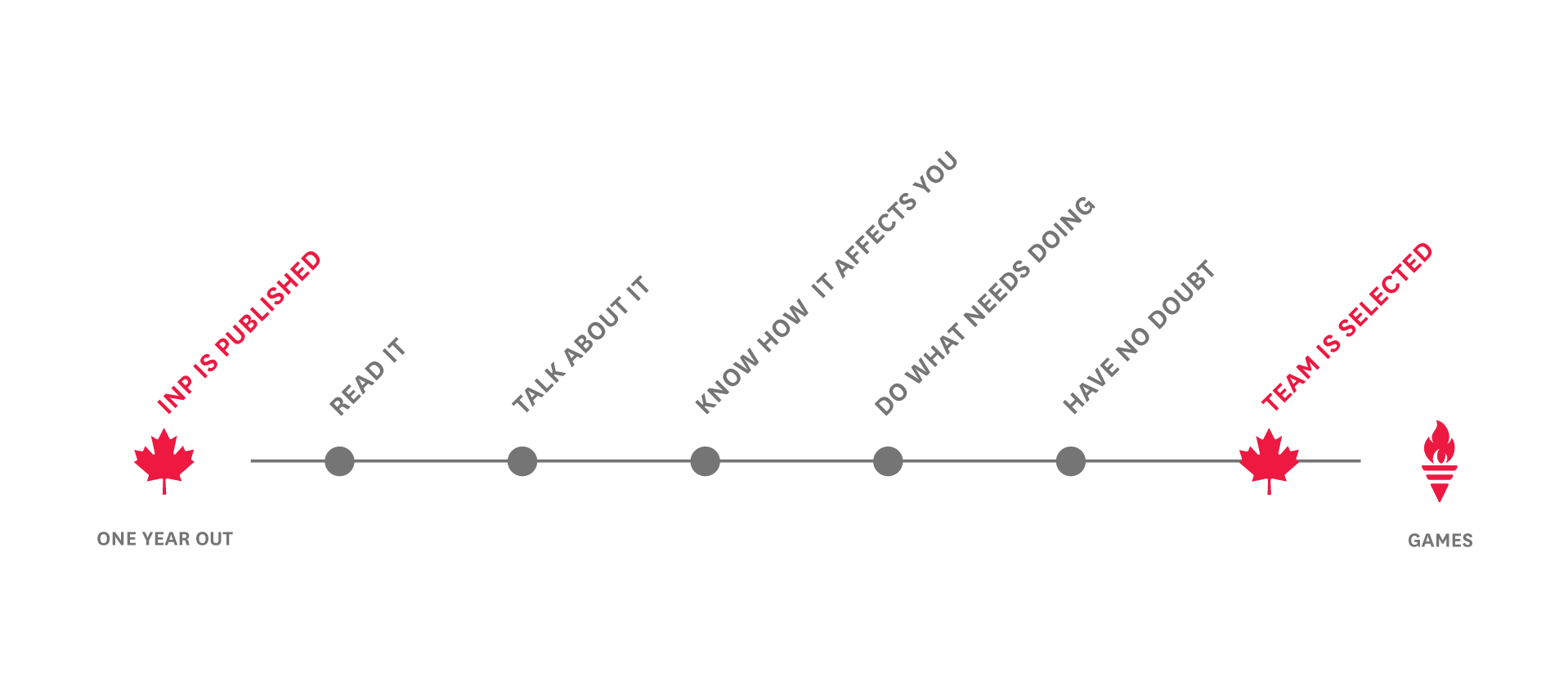 WHAT IS THE INP?
Each National Sport Federation will produce an "Internal Nomination Procedure" (INP) which outlines the criteria, timelines and process by which they will nominate athletes to compete for Canada at a Games. It's more commonly known as selection criteria. Games-related selection criteria are submitted to the Canadian Olympic Committee for review and approval.
ACCESS TO IT
Once approved, approximately one year out from Games, the document is published to help ensure transparency for everyone involved — especially athletes. Most NSFs publish the criteria (INP) on its website. Others, wishing to keep it private to maintain a competitive advantage against other nations, will email the criteria direct to its members or post it on a password-protected online portal. Regardless of the publication method, you should have access to your INP. Make sure you seek it out.
DID YOU KNOW?
The International Federation criteria for the Tokyo 2020 Olympic Games has now been released for most sports. This means national sport federations are currently working on their criteria for those Games!
READ IT
If we think of becoming a Team Canada athlete as a job, the INP is an athlete's job application. And it's definitely risky to apply for a job without reading the application first. Doing this will open up initial questions, inform your schedule and ideally spark some inspiration to hit any outstanding targets.
Have you read your sport's criteria to be selected for Lima 2019?
TALK ABOUT IT
Discussing selection criteria with your coaches, HPDs and teammates well before the selection process begins is essential. Opening up this dialogue should be inspiring. By knowing how your sport is selecting its team and why the process has been designed the way it has, everyone can get on the same page and avoid misalignment at crunch time. So, book your Lima 2019 meeting with your NSF now. If Tokyo 2020 is on your radar, why not slot some time now to discuss those Games too?
KNOW HOW IT AFFECTS YOU
Every sport's team selection criteria are different. Some are straightforward, while others require a level of subjectivity in making tough decisions. Each process is designed to ensure the optimal performance of Team Canada at the Games. It's advantageous to know how these selection decisions are being made, who is making them and when they will be announced. All of these factors can influence how you plan your year(s) ahead.
DO WHAT NEEDS DOING
Now is the perfect time to take a detailed look at where you are performance-wise and hold it up against your team selection criteria. Consider what is on the road ahead to ensure you give yourself the best opportunity to be selected. Everyone will have a different approach to get there, so find a way that works best for you.
What has to be done between now and June 2019 to be nominated to the Lima 2019 Team?
HAVE NO DOUBT
There's no room for doubt when it comes to performance, and the Team selection process is part of it. So, if you have questions (and you should), find the best person to provide an answer; your team leader or coaches will know the team selection criteria inside-out. Alternatively, your athlete representation can also be a resource in understanding your criteria. Not sure who that is, or would prefer to speak with someone else? AthletesCAN is always there for you.
IN A NUTSHELL
The COC Team Selection Policy requires athletes to be meaningfully engaged in the development, interpretation, and implementation of the INP and overall NSF team selection process for Games. If you don't know how your sport is engaging its athlete community in this process, it's in your best interest to find out.
***
It's impossible to fully understand what someone else is feeling when team selection occurs. But it is fully possible to ensure distraction-risk is minimized and Games preparation is consistently at the fore — simply by preparing for what we can control as soon as possible.
For Lima 2019, that time is now.
To avoid distraction to you, your teammates and everyone else engaged in the selection process during the final phase of qualification, seek out your INP for Lima 2019 now. Read it. Understand it. Address the questions you have. And move on to what you love to do: preparing to represent Canada as the best version of yourself.