HOW WILL ACCREDITATION AFFECT YOUR PLANNING?
5 WAYS TO MAKE YOUR PROCESS HELP PERFORMANCE:
If you are reading this, you obviously know how to get stuff done. Nobody reaches this point in their Olympic journey without understanding how to take care of the little things which make a big difference. With that in mind, we don't have to tell you that nailing your accreditation process is one of those things. And it's no secret this can sometimes be a challenge.
The good news is that (like always) we are here to help. Here are five ways to ensure your accreditation process will have a positive impact on Team Canada's performance:
1. UNDERSTAND YOU ARE CONTRIBUTING TO THE SUCCESS OF A LARGER TEAM
Your accred type (or lack thereof) has a higher purpose. In fact, because you have earned the right to go through this process, the status of your accreditation (and that of your potential teammates) fits into the overall shared goal of Team Canada. Like a puzzle. Each has an impact on every sport and functional area of our team — all organized with optimal performance in mind. Your accreditation type is a key contribution to this.
Here's how it breaks down …
2. KNOW THAT IT WON'T BE PERFECT
Some things in life are certain: The sun will come up in morning and there will be Olympic accreditation challenges. But, again, since you are an expert in overcoming challenges outside of your control, we've highlighted some specific realities that will inform your planning.
Demand for Olympic accred far exceeds what we are permitted to supply. If it were up to us, everyone would receive the accred they request. Sadly, it's not. The number of accreditations available is dictated by the IOC, and is calculated based entirely on the number of athletes we send to the Games.
As a result, we do not know the final number of accreditations available to us until the end of the qualification period (for PyeongChang 2018, this is January 25th, 2018). So, we have to estimate where to allocate accreditations. These estimates can and often do change, right up to the Delegation Registration Meeting (DRM) which is held just about two weeks before the Opening Ceremony.
3. USE YOUR STATUS AS AN ADVANTAGE
The Games are full of variables, but there's one thing you can count on: Your accreditation status will impact your Games experience. Therefore, it must influence your plan. Here is an outline to help you better understand what kind of access certain credentials allow for: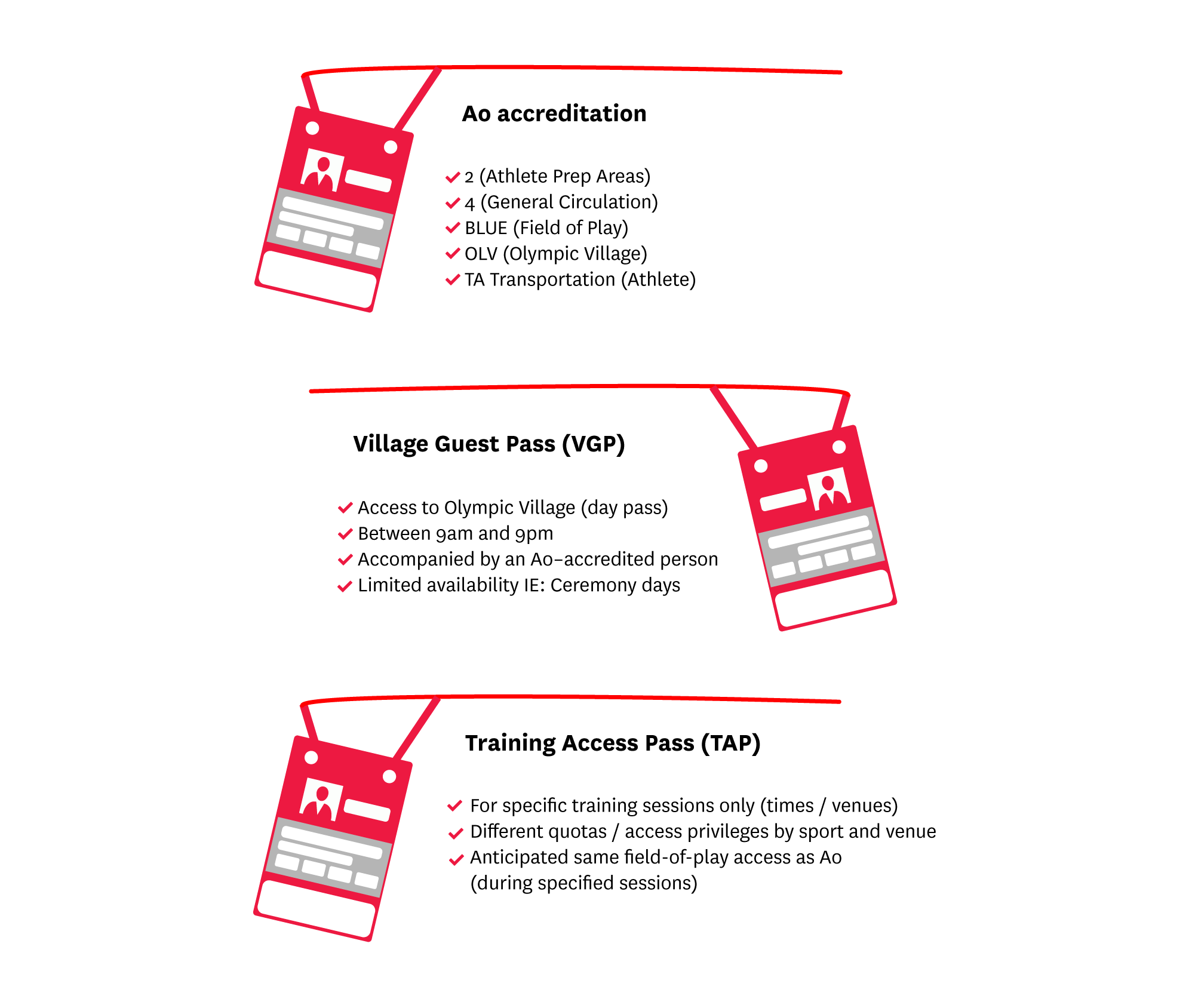 4. ASK THE RIGHT QUESTIONS
Do you know today exactly what your accred status is for Games? If the answer is no, you should be planning to have a conversation with your team leader in the very near future. It's important to note that slight adjustments onsite are sometimes possible. However, in general, accreditation allocations are determined in advance and can't be changed, so don't go into Games thinking you can change it onsite.
Here are some questions to help guide that conversation so you can understand what your accreditation or non-accreditation will mean for your Games experience:
• What days am I accredited (will there be a period at Games when I am non-accredited)?
• What form of ground transportation will I/my coach/MPC/physio have access to?
• What days will I require a Village Guest Pass?
• Will I be moving from the Performance Centre into the Village and when?
• Will I have access to training venues?
• How much time should I plan for travel to venue/receipt of training access pass?
• Do I need tickets for competition?
• Will I be accredited/eligible to march in the Opening and/or Closing Ceremony?
5. BE CONFIDENT IN THE SOLUTION
As mentioned, we are all experts in controlling the things we can control and planning for the things we cannot. The accreditation process is no different.
Since the COC does everything in its power to optimize the composition of our Team, and you are a key contributor to our shared goal at the Games, we know our collective solutions will work. By understanding how the accreditation process fits together, you can amplify the positive impact you will have on the Team's performance — and move on to the next 'little thing' that will make a 'big difference'.