In January, we introduced a new OLY opportunity; the Legacy Grant. This is a program designed to enable Team Canada Olympians to leave a lasting legacy and create positive change. The COC is very proud to have many representatives actively working on interesting, valuable and meaningful initiatives in their community.
Congratulations to the first five recipients: Nick Tritton, Zach Bell, Caroline Ouellette, Carolyn Trono, and Eric Mitchell. We are happy to provide an update of how they've been building stronger communities through the Olympic values.
---
Nick Tritton: Judo for the World
(Judo – Beijing 2008 / London 2012) 
Judo for the World is a project geared towards high risk aboriginal youth from Kahnawà:ke, where Nick demonstrates how the sport of Judo and its basic values translate into a way of life. What is learned on the mat through hard Judo training, transfers to how children behave and act at home, at school, at work or at play. Nick has persistently been focusing his efforts for the past 8 years on numerous socioeconomic and health-related challenges faced by aboriginal youth. This project continues to provide services related to three main elements; physical development, mental improvement and spiritual guidance/cultural knowledge acquisition and understanding.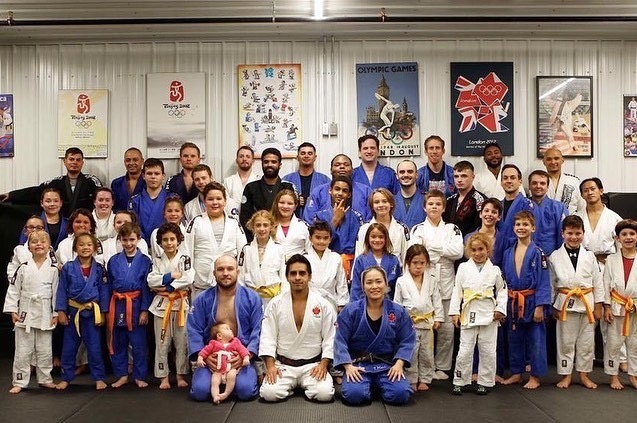 ---
Zach Bell: Yukon Northern Lytes
(Track Cycling – Beijing 2008 / London 2012) 
Northern Lytes connects Olympic expertise with rural athletes and volunteers to the Olympic knowledge that may otherwise be unavailable. This program invites Yukon sport organizations to apply for funding in order to support camps and clinics involving Olympians and Olympic-level coaches. In hopes of providing a meaningful and inspiring experience, Northern Lytes offers a skills upgrade and a new invaluable member in one's network to help connect their programs to some of the most influential people in their sport. This engages Olympians in a one of a kind experience with local groups in Canada's territories in an effort to create a closer connection between the Olympic family and northern culture and committees. 
Caroline Ouellette: Celebration of Women's Ice Hockey
(Ice Hockey – Salt Lake City 2002 / Turin 2006 / Vancouver 2010 / Sochi 2014)
Celebration of Women's Ice Hockey is a non-profit organization that was created in 2014 by Caroline for the promotion and the development of women's hockey. Every year, they offer an opportunity for over 850 girls aged 3 through 12 to participate in a tournament with fun and competitive games. There are demonstrations, photo and autograph sessions, and the chance for future stars to meet with Olympians and players from the Montreal Canadiens. The mission for Women's Hockey Celebration events is to raise appreciation for the sport and contribute to the personal development of young female canadian athletes.
---
Carolyn Trono: Winnipeg's Newcomer Sport Initiative
(Rowing – Los Angeles 1984)
The Newcomer Sport Initiative is providing newcomer youth and their families with quality multi-sport programming using Long Term Athlete Development (LTAD) and True Sport Principles. This is a way to assist and support newcomers as they adapt and integrate into Winnipeg and their new environment. This summer, approximately 50 youth ranging from 4-15 participated in various activities such as swimming, baseball, basketball, soccer, and gymnastics. The Newcomer Sport Initiative uses sport, physical literacy, and play in a way that assists families with settling in to their new Canadian home.
---
Eric Mitchell: Pass the Torch, Youth Olympic Games Outreach
(Ski Jump – Vancouver 2010)
Eric is a founding ambassador for the COC's One Team initiative, a Young Change-Maker for Team Canada at the Youth Olympic Games (YOG) and IOC Culture and Olympic Heritage Commission Member. He continues to make an impact through his Youth Olympic Games Outreach project, Pass the Torch. Eric has been using the existing Athlete Education Program to explain the concept of the YOG; demonstrating how everyone can live by the values of Olympism and helping develop specific skills related to athlete development. The hope is to reach a larger audience and also offer the opportunity for young athletes to get more involved.
---
To learn more about how these recipients were selected, the eligibility and evaluation criteria please click here. Keep an eye out for the second year of the Legacy Grant applications that will open in January of 2020!
***
Believe in your legacy.