On behalf of fellow OLY Geza Tatrallyay, it is our pleasure to invite all Team Canada Olympians to the launch of his latest book, The Fencers. A member of the 1976 Canadian Olympic Fencing Team, Geza invites you to join one of three readings taking place this spring in Toronto, Montreal and Ottawa.

The Fencers is an exciting true story of Paul Szabó, a Romanian fencer whom Geza helped defect to Canada at the Montreal 1976 Olympic Games. Paul was only twenty-one at the time and had to face leaving his friends and family behind knowing that he may never see them again. This is the story of his courage, his friendship with Geza, his love for a girl, their happiness, success and the ultimate tragedy that marred their joy.
Toronto – May 1st
Location: Ben McNally Books, 366 Bay St, Toronto, ON
Date and time: Wednesday, May 1st, 6pm to 8pm

Ottawa – May 17th
Location: Poor Boy Restaurant, 495 Somerset St. W, Ottawa, ON
Date and time: Friday, May 17th, 7pm to 8:30pm

Montreal – May 22nd
Location: Canadian Olympic Committee, 500 West René-Lévesque Blvd, 2nd floor, Montréal, QC
Date and time: Wednesday, May 22nd, 4:30pm to 6pm
Hors d'oeuvres and cocktails will be served
To RSVP, please e-mail OLY@olympic.ca by Friday, April 26th.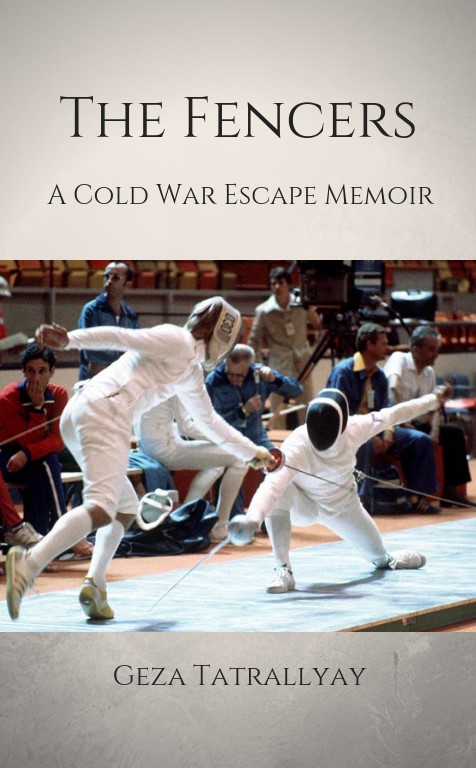 About Geza
Geza Tatrallyay was born in Hungary, and after immigrating to Canada with his family, grew up in Toronto. He attended the University of Toronto Schools where he was a Fencing School Captain in his last year of studies. Geza went on to receive a B.A. in Human Ecology from Harvard in 1972 and a M.A. in Human Sciences from Oxford in 1974, followed by an M.Sc. in Economics from the London School of Economics and Politics. His career has spanned government, international organizations, corporate banking and environmental finance. Geza and his wife Marcia now divide their time between Barnard, Vermont, and San Francisco, where they have a daughter and two grandsons. They travel often, especially to Nairobi, to visit their son and youngest granddaughter.
The Fencers is the third in Geza's trilogy of Cold War Escape Memoirs. The first book in the trilogy, For The Children, is the account of his own family's escape from Communist Hungary during the 1956 Revolution and their subsequent immigration to Canada. The second book in this series, The Expo Affair, tells the true story of three Czechoslovak girls who approached Geza at EXPO'70, the world's fair in Osaka, Japan, where Geza worked at the Ontario Pavilion, interrupting his Harvard studies for a year.
For more about Geza Tatrallyay, visit his website.