Be Olympic 2022: Bring the Olympic Winter Games to a classroom near you!
As the nation turns its gaze to Team Canada's performance at the 2022 Olympic Winter Games, the Canadian Olympic School Program is thrilled to provide teachers with a new educational series filled with engaging Olympian stories and cross-curricular classroom activities.
Join your Be Olympic 2022 Ambassadors, Mikäel Kingsbury and Cynthia Appiah to get into the spirit of the Winter Olympic Games.
Mikael and Cynthia will guide students through three weeks of classroom programming focusing on the values of perseverance, teamwork and respect. Filled with weekly videos, daily athlete stories, learning activities and inspirational messaging, every student will be able to discover the Olympian inside themselves.
Download it today: https://olympic.ca/education/resources/be-olympic-2022/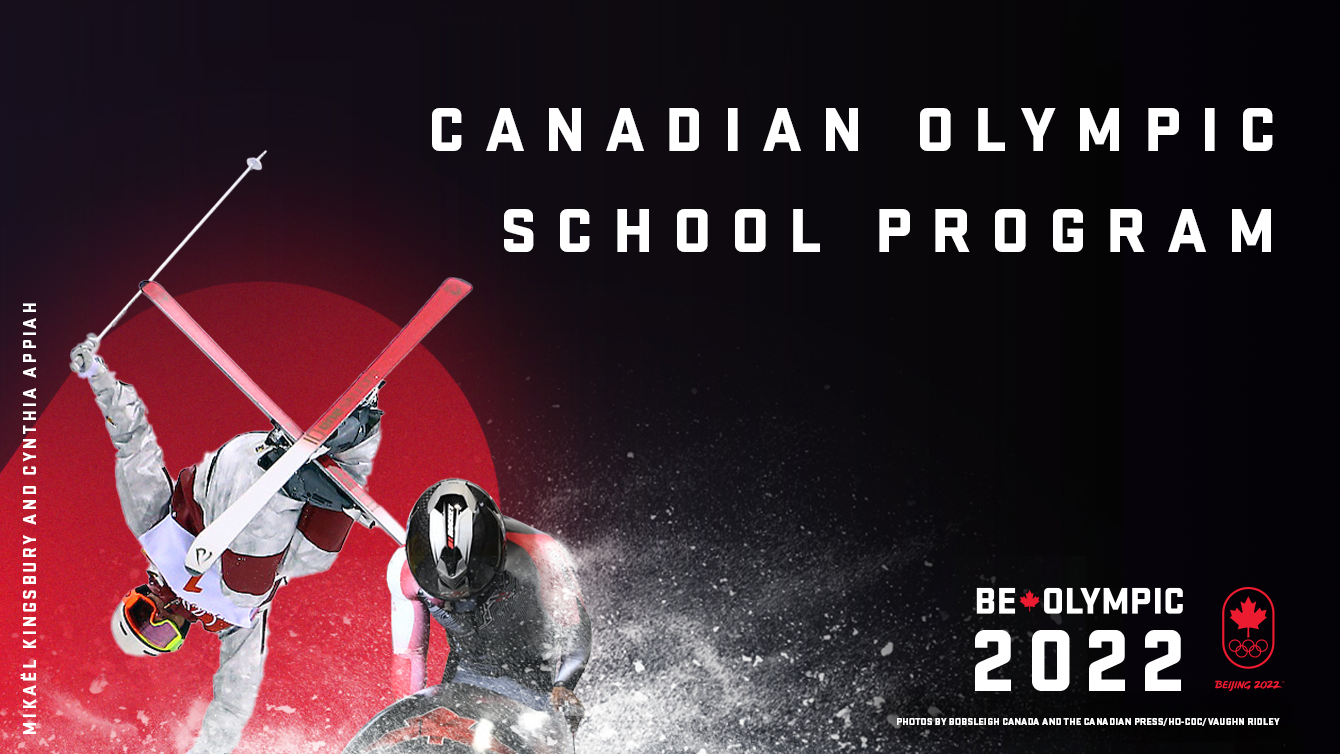 ---
Athlete Grocery Card: Tokyo 2020 Athletes
As we get into the holiday season, we want to remind the Tokyo 2020 athletes that using your Athlete Grocery Card, provided by our good friends at Sobeys, is an easy way to pick up your favourite foods! Sobeys is proud to Feed The Dream of Canadian athletes by providing you access to nutritious food as you continue to represent Canada on the global stage and beyond. Your Athlete Grocery Card can be redeemed at the following grocery store locations across Canada: Sobeys, Safeway, IGA, IGA extra, Garden Market IGA, Foodland, FreshCo, Chalo! FreshCo, and Thrifty Foods.
Important details to note (please read through these carefully):
Treat this card like cash; in the event your card is lost, stolen or if you have questions, contact groceries@olympic.ca and visit https://sport.olympic.ca/oly/groceries/.
Your Athlete Grocery Card expires on Thursday, March 31, 2022. Be sure to use all funds prior to this date. Any remaining funds on the card after this date will be distributed to the COPSIN to benefit high performance athletes.
For more information about your athlete grocery card, please contact groceries@olympic.ca. Sobeys Inc. is a proud partner of the Canadian Olympic Committee.
---
Sport Betting and Competition Manipulation Resources
The COC and CCES recently held a webinar to increase education around the manipulation of competitions and its impact on athlete safety and wellbeing. You can view these here.
The IOC also has multiple resources available to support athletes, these include:
Code of Conduct – The IOC has recently launched the updated version of the Code of Conduct in line with the Make the Right Decision-campaign which is now available in 21 languages. You are welcome to download it at this link.
Communication Campaign: The "Make the Right Decision"-campaign has been launched across Athlete365 social channels and resources can be accessed here: Make the Right Decision campaign toolkit – Athlete365 (olympics.com).
E-Learning Module: The online learning module on Preventing Competition Manipulation is available on the Athlete365 website. We invite you to share the link with your teams and athletes and encourage them to complete the 15 min module.
---
Optimally Supporting an Olympian/Paralympian: Virtual Session for Friends and Family of Beijing-Bound Athletes
With time changes, COVID protocols, training and competition schedules and more than 8,000 kilometres between you and your loved one representing Canada in Beijing, you may be wondering how you can let them know you're their biggest fan, while also respecting their needs as they prepare to compete on the world stage.
In this session, Certified Counsellor and Mental Performance Consultant (MPC) Clare Fewster, and Psychologist and MPC Amélie Soulard will prepare parents, spouses, friends, and loved ones to optimally support their Olympic or Paralympic athlete from a distance.
When: Wednesday January 19th at 7pm EST Language: English & French

Link to register: https://us06web.zoom.us/meeting/register/tZYpdOmrrD4iG9yybQ-EkPdJq9Egn7HKueuB
---
Mental Health Check-In
We understand that this season can cause challenges and fluctuations in our mental health. We wanted to take this opportunity to remind you of the resources available to you through Game Plan programming! Learn more here.
---