Have you ever wondered what it's like to compete in a triathlon (unless you are a triathlete, of course) or do you simply want to swim, bike or run as part of an Olympian relay team? For the second year in a row, we are recruiting Team Canada Olympians – from all sports, active and retired – to take part in the Défi Douglas Challenge as part of Groupe Copley World Triathlon on Saturday, June 29, 2019.
Défi Douglas is a sprint triathlon event that consists of a 750m swim, 20km bike ride and a 5k run. The event takes place at the Grand Quay in the beautiful Old Port of Montreal, Quebec. No matter the skill level and athletic ability, everyone is invited to take on this friendly challenge for a good cause, and to reunite with your fellow Olympians.

The Canadian Olympic Committee will cover registration fees for up to two teams (value of $1,500+tax per team). Registration includes unlimited access to the venue and the VIP area all day to watch the World Triathlon Series, grandstands, giant screen, official gift and pictures, food and drinks. The Canadian Olympic Committee will also provide some cool swag for the participating Olympians.
You can race in all three disciplines (all team members swim, bike and run) or as a relay team (one swimmer, one cyclist and one runner). Each team must have at least one female competitor. In your response, please indicate your event preference and we will get in touch with you closer to the date of the event to let you know the composition of the two teams.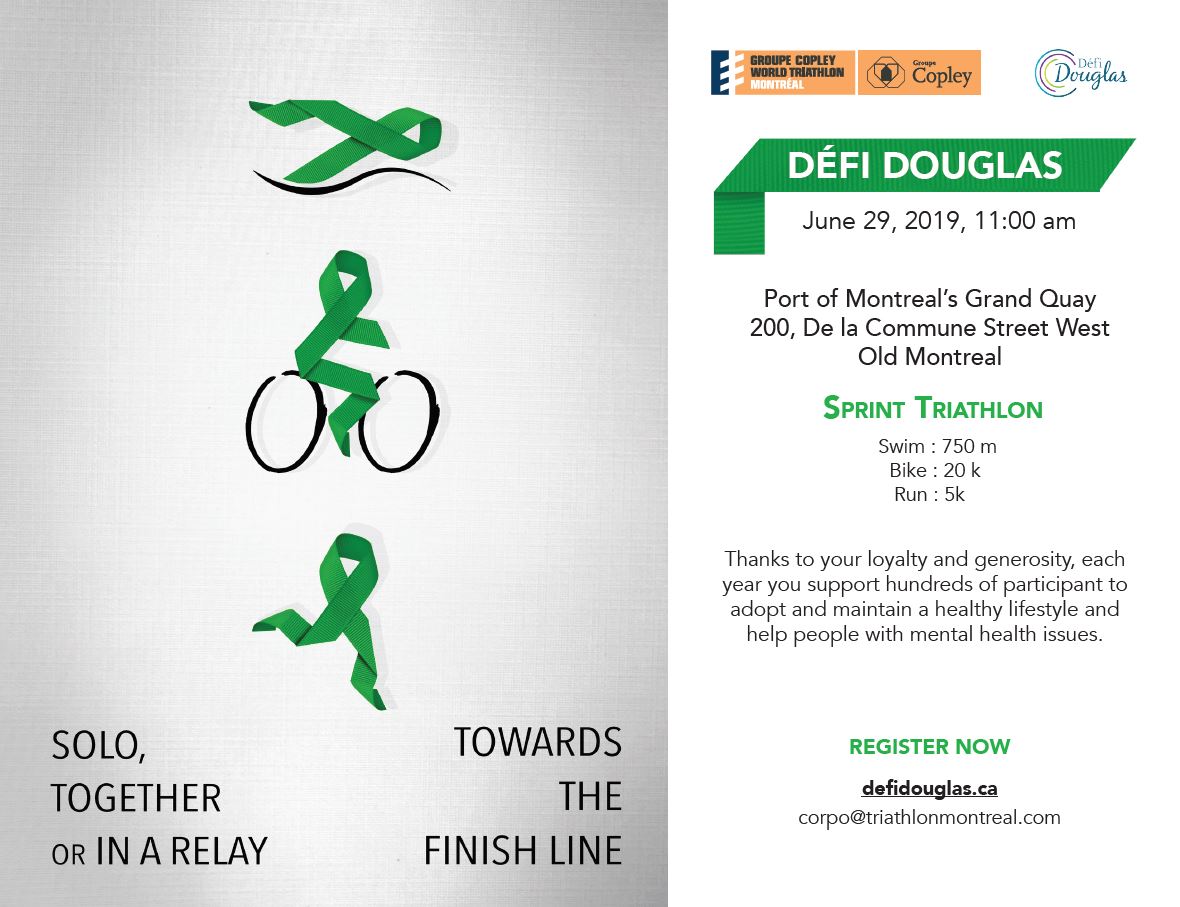 About the event
Défi Douglas is organized to raise funds in support of the Douglas mental health university Institute, which includes the most important research centre in mental health in Quebec and second in Canada.

The benefits of physical activity on the overall mental health are well established. That is why the Douglas mental health university Institute also recruits internal teams to participate in the Défi Douglas. These teams, composed of patients, families and staff, benefit from a special training program taking place on the Douglas's grounds to be fully prepared for this event.