YOUR ATHLETE COMMISSION IS HERE FOR YOU
The sport landscape is changing, and it's affecting your life.
Athlete rights. Funding. Team selection. Marketing. Wellness. Fair play. Policy. Sport development. Olympic readiness. These are some examples of issues that decision-makers in our sporting universe address every day. And, no matter what, their decisions will impact your life as an athlete.
That's why it's critical to make your voice heard and, more importantly, understood.
Enter: Your Athlete Commission (AC).
"Athletes are leaders within the sport community," says Oluseyi (Shay) Smith, Chair of the Canadian Olympic Committee's (COC) AC and two-time Olympian in two different sports. "Together we will work to ensure the strategies proposed by the COC fully reflect the betterment of sport and our athletes' interests."
YOUR interests, indeed. Nobody knows what you need to be successful better than you. It's with this in mind that the AC is dedicated to representing you, your perspective and your opinions in front of the COC's Board of Directors, Sport Canada, the International Olympic Committee and international and domestic sport federations.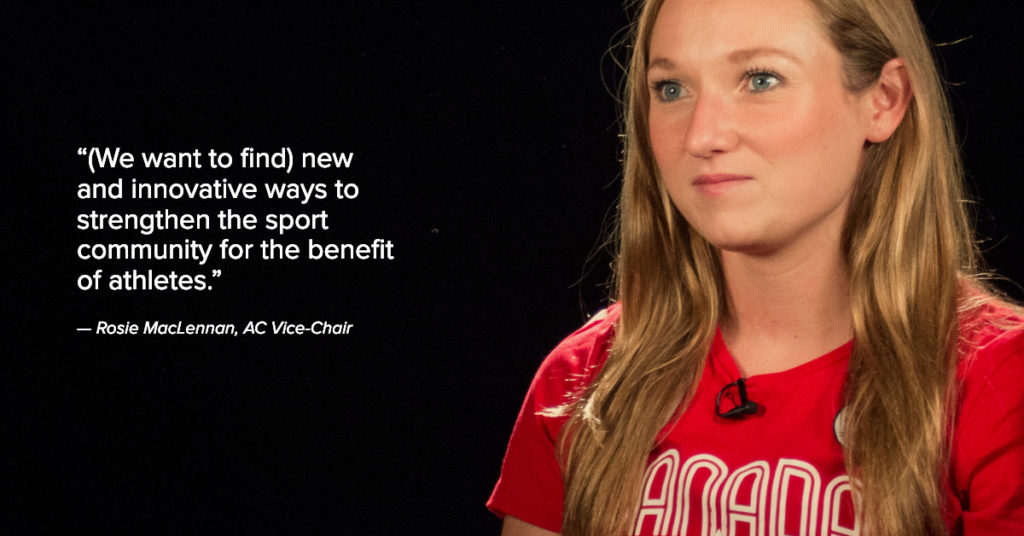 In other words, the AC is your seat at the table when it comes to high-level decision making in our evolving sport community.
"(We want to find) new and innovative ways to strengthen the sport community for the benefit of athletes," said Rosie MacLennan, AC Vice-Chair, two-time gold medallist and three-time Olympian.
For this to happen effectively, being informed is the first step. This is especially true if you want to create positive change for yourself and your athlete peers. Your AC is here to help as an impartial confidante.
As athletes, we share in our commitment to our high-performance lifestyles. This commitment to success on the field of play – and in our individual lives — also means commitment from the highest levels of sport governance. And when decisions are being made about us or for us, it's essential our viewpoint is at the heart of those decisions.
Your AC's sole purpose is to make that happen. So, as our sport community continues to change, learn how you can help it change in the best possible way for you.
---