FOLLOW YOUR FEMALE LEADERS TO INSPIRE POSITIVE CHANGE
What does gender equality look like in sport? How does it feel? When does it occur?
"When girls and women around the world have the same opportunities and an equal voice in their roles as participants, coaches and leaders, sport will be at its best," says Canadian Olympic Committee President Tricia Smith.
It's empowering to have this knowledge; an awesome tool for positive change. More importantly, though, it's our responsibility, together. Indeed: "There is still more work to be done."
As members of Canada's sport community in 2019, we are the ones accountable for doing this work to make gender equality more achievable in sport. Not only is it needed to purposefully guide our next generation, it helps all of us toward the equal opportunity to perform at our best. Thankfully, leading our community is a driving force continually proving we can do it, together.
Notably, that driving force is female.
The work of these Canadian sport leaders speaks louder than the recognition it deserves or the intention behind it. They are women who set examples for us to follow — every day — in creating the positive change we need to see in sport. For this reason, it's important to pause, reflect and celebrate the strengths, achievements and changes all women are bringing to some of the challenges facing our world.
RECOGNIZE PROGRESS ON INTERNATIONAL WOMEN'S DAY
Every year, on March 8, people around the world commemorate International Women's Day to help expose issues and shed light to the challenges that impact the lives of women globally. Though (as mentioned) we have a long way to go, it's encouraging to look at the progress – especially in the Olympic Movement thus far.
In 1935, the founder of the Modern Olympics, Pierre De Coubertin, was a long standing opponent to female participation in the Olympic Games and stated "the primary role [of women] should be to crown the victors". Needless to say, we have come a long way. The Beijing 2022 Games is projected to host a nearly 50/50 split between male and female competitors. This measurable progress is amazing and is a powerful Movement to belong to. For us, the work literally shows in the results of our Team's recent Olympic performances:
In PyeongChang (2018), female athletes won 17 of the 29 medals.
In Rio (2016), female athletes won 16 of the 22 medals.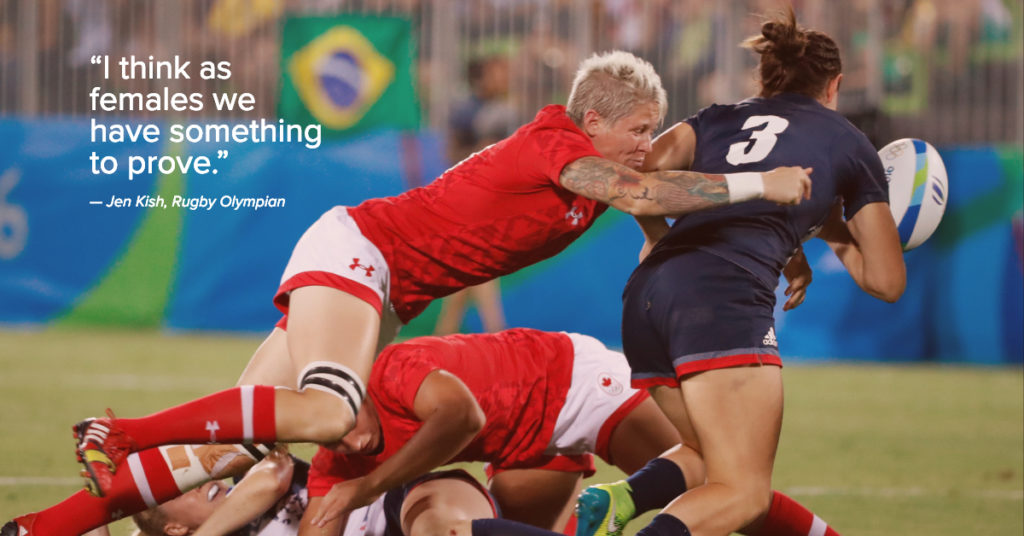 ***
CREATING A STRONGER, EQUAL FUTURE FOR SPORT
It's with this progress in mind, today, the COC is proud to announce the second cohort of the Women Emerging Leaders Development (WELD) program. Twenty-four women have been selected to participate in the year-long program as part of the NSF Enhancement Initiative (NSF EI). One of the priorities of the program is to strengthen the talent and leadership in National Sport Federations, designed to build bench-strength and reinforce the pipeline of talent in our system. There are various elements to the program including mentoring, Learn-from-a-Leader presentations, Experiential learning at Canadian-based sports events, Peer to Peer learning via the CO-OP program as well as many others. This is just an example of some of the important work happening in this space.
WHAT WILL YOU DO TO INSPIRE CHANGE?
BE INFORMED:
At 11:30 a.m. EST on March 8, COC President Tricia Smith, along with some incredible leaders in sport will be participating on a CBC panel discussion on Friday on the topic of women in sport.

ASK QUESTIONS:
At 12:30 p.m. EST on March 8, the Canadian Association for the Advancement of Women and Sport (CAAWS) is hosting a live event on Facebook to which you can submit your questions to be addressed on the live stream.

GET INVOLVED:
FitSpirit and Fast and Female are two Canadian organizations dedicated to inspiring girls and women to have more positive experiences in sport. Seek out an organization where you can contribute, be involved or help others be inspired. The Coaching Association of Canada (CAC) and the Coaching Enhancement Program (CEP) also have great initiatives for coaches looking to advance their approach around equality in sport.
SPEAK OUT:
#BalanceforBetter is the social call-to-action for driving gender balance across the world on March 8. Be a part of the conversation – and more importantly the contribution – toward positive change.
---