On October 6th, Green Sports Day in Canada will launch a national conversation about sustainable sport.
In the Fall of 2020, an Open Letter addressed to Minister Steven Guilbeault and Parliamentary Secretary Adan van Koeverden was signed by more than 125 sportspeople from across the country, asking them to recognize the potential of sport as a force for good, and to normalize green sports in this country by helping us to get recognition for a national Green Sports Day.
Since then, a committee of dedicated sports professionals, academics, and athletes have convened to bring the inaugural Green Sports Day Canada to life. The committee includes (in alphabetical order):
Emilie Fournel, Marketing & Communications at Game Plan, 3x Olympian in Canoe/Kayak
Martha McCabe, Founder of Head-to-Head, 2x Olympian in Swimming
Philippe Marquis, Coach at Freestyle Canada, 2x Olympian in Freestyle Skiing
Melissa Humana-Paredes, Olympian in Beach Volleyball
Seyi Smith, Founder of Racing to Zero, 2x Olympian in Athletics and Bobsleigh
Dr. Maddy Orr, Founder of The Sport Ecology Group & Lecturer at LU London
Josh Peacock, Events & Partnerships Manager at Cycling Canada
Dr. Ann Pegoraro, Lang Chair in Sport Management at University of Guelph
GOALS
To accelerate a conversation on sustainable sport and climate action.
To educate the Canadian sports community on best-practices for sustainable sport.
To celebrate the work being done to 'green' the sports sector in Canada.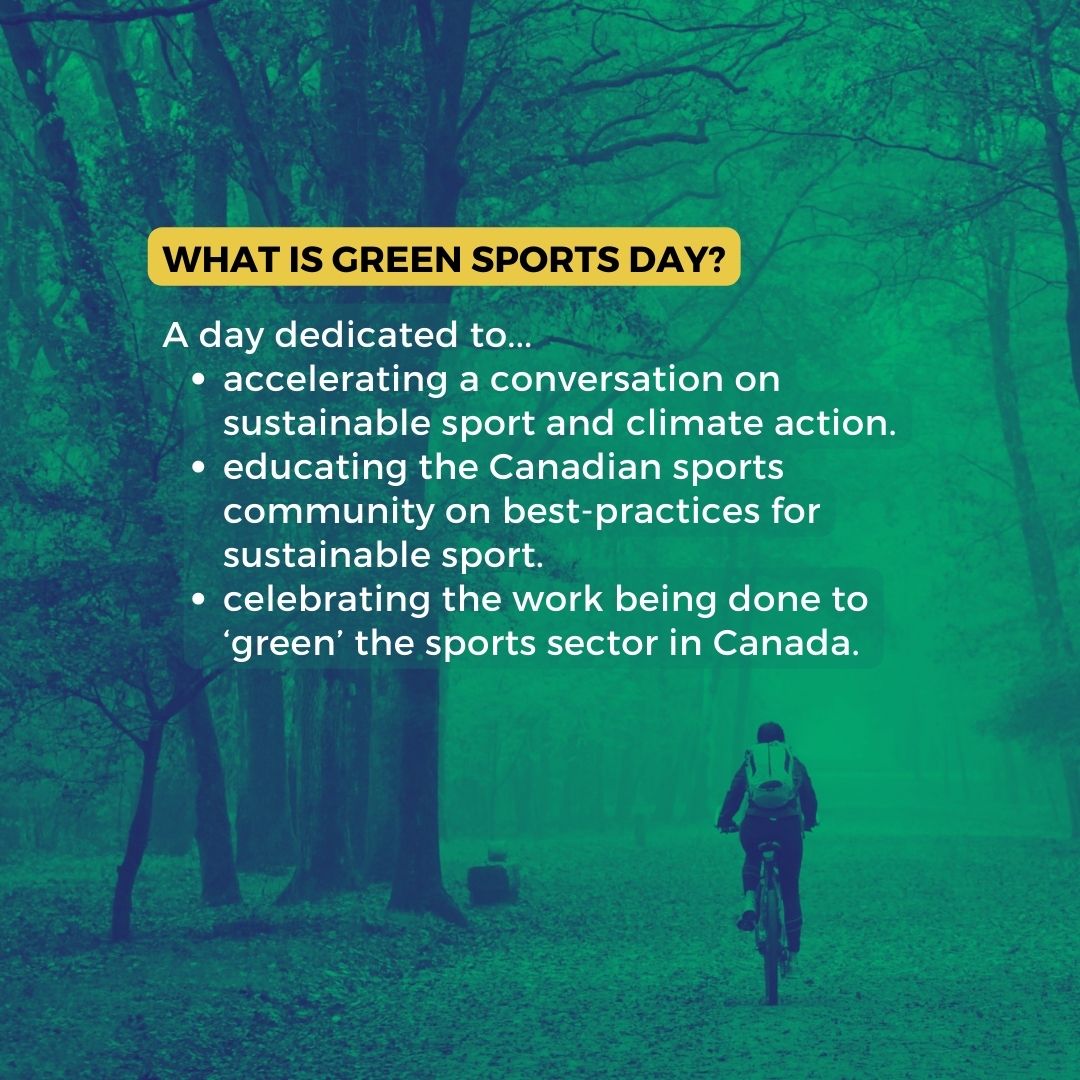 ---
How can you get involved?
October 5th: Virtual Session
Hosted by Adam van Koeverden (MP for Milton, 4x Olympian in Kayak), the Green Sports Sessions will feature two exciting panels, a short documentary screening (Revolutions), and some addresses from sports leaders and athletes from across Canada.
WHEN: October 5th 2022 (day before Green Sports Day) 12:00 -2:00 pm EST
WHERE: Online – click this link to register and you'll be sent the link by email in the days leading up to the event.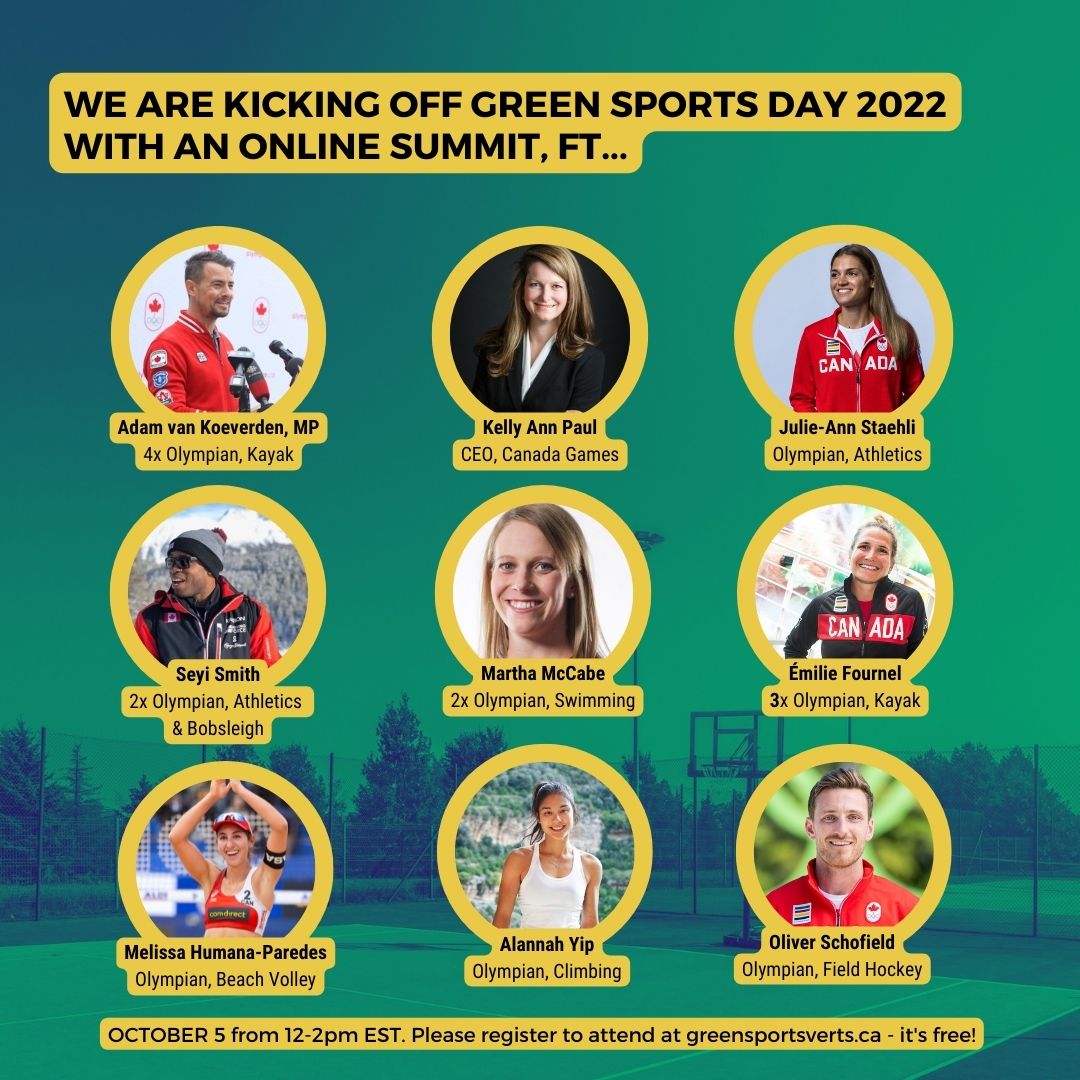 ---
October 6th: Join an Olympian-led cleanup near you!
Green Sports Day has partnered with Ocean Wise Shoreline Cleanup to help take action in communities across Canada. Check out the list of Olympian and Paralympian-led cleanups, or start your own!
Ocean Wise Shoreline Cleanup has grown into one of the largest direct action programs in Canada. Providing Canadians across the country with the opportunity to take action in their communities wherever water meets land — one piece of litter at a time.
ATTEND A CLEANUP ON OCTOBER 6th (all times are local):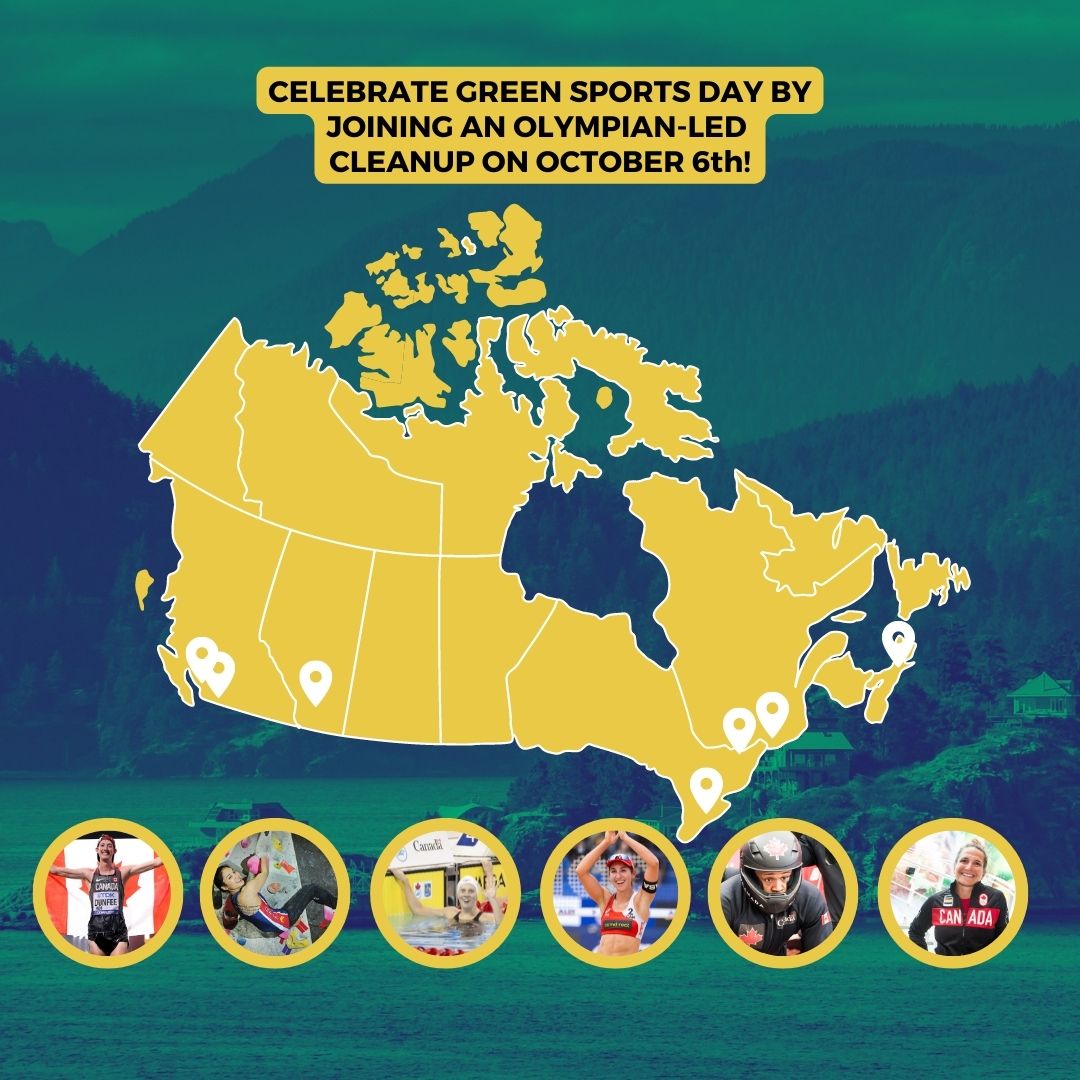 ---