2022 Agent Summit
Earlier in the month, the COC Brand & Commercial Management team hosted athlete representatives for a day of information sharing and networking. We were very pleased with the conversations had, the feedback heard, and the direction we are headed – together. On site, we were joined by various members of the COC leadership team, the CBC, and the Team Canada Athlete Commission. We encourage you to continue to update us if you sign with a representative or are curious about how we work with the Agent community as key stakeholders.
---
Athlete Appearance Protocol Overview
We understand the AEP is a very long document, so we have created a summary overview that can hopefully give you a snapshot of the protocol. It has been developed to ensure clarity, consistency and alignment for the various Team Canada Athlete Engagement requests managed by the COC.
---
P&G Athletes for Good Program: Paris 2024 Hopefuls
Over the past decade as a TOP sponsor, P&G has had the pleasure of celebrating the unique journey that Olympic and Paralympic athletes take on their road to achieve their dreams. Through that journey, P&G recognizes that athletes are so much more than just their sport. They are champions of change within their communities, leaders using their voice, platforms, and resources to make their communities better.
In support of these athletes and the causes they care about, we are excited to share with you that P&G – in partnership with the IOC and the IPC – is continuing its Athletes for Good program for Olympic and Paralympic Games Paris 2024 athletes and hopefuls! Athletes for Good recognizes and supports athletes who serve their community by awarding a $24,000 USD grant to a charity of their choice. As part of Athletes for Good, the 16 selected recipients will work closely with P&G, the IOC, and IPC to promote the causes that are most important to them and inspire others to do good. This opportunity builds off the success of similar programs from Tokyo 2020 and Beijing 2022, which combined awarded nearly a million dollars of grant funding to charitable organizations that athletes support.
To be eligible for an Athletes for Good grant, applicants must be a Paris 2024 athlete or hopeful and actively working with a non-profit charitable organization that is related to one of the following areas below:
Equality and inclusion
Environmental sustainability
Community impact (example: disaster relief, helping communities in need, etc.)
Athletes can apply for the Athletes for Good grant by clicking here. The deadline to apply is March 20th 2023.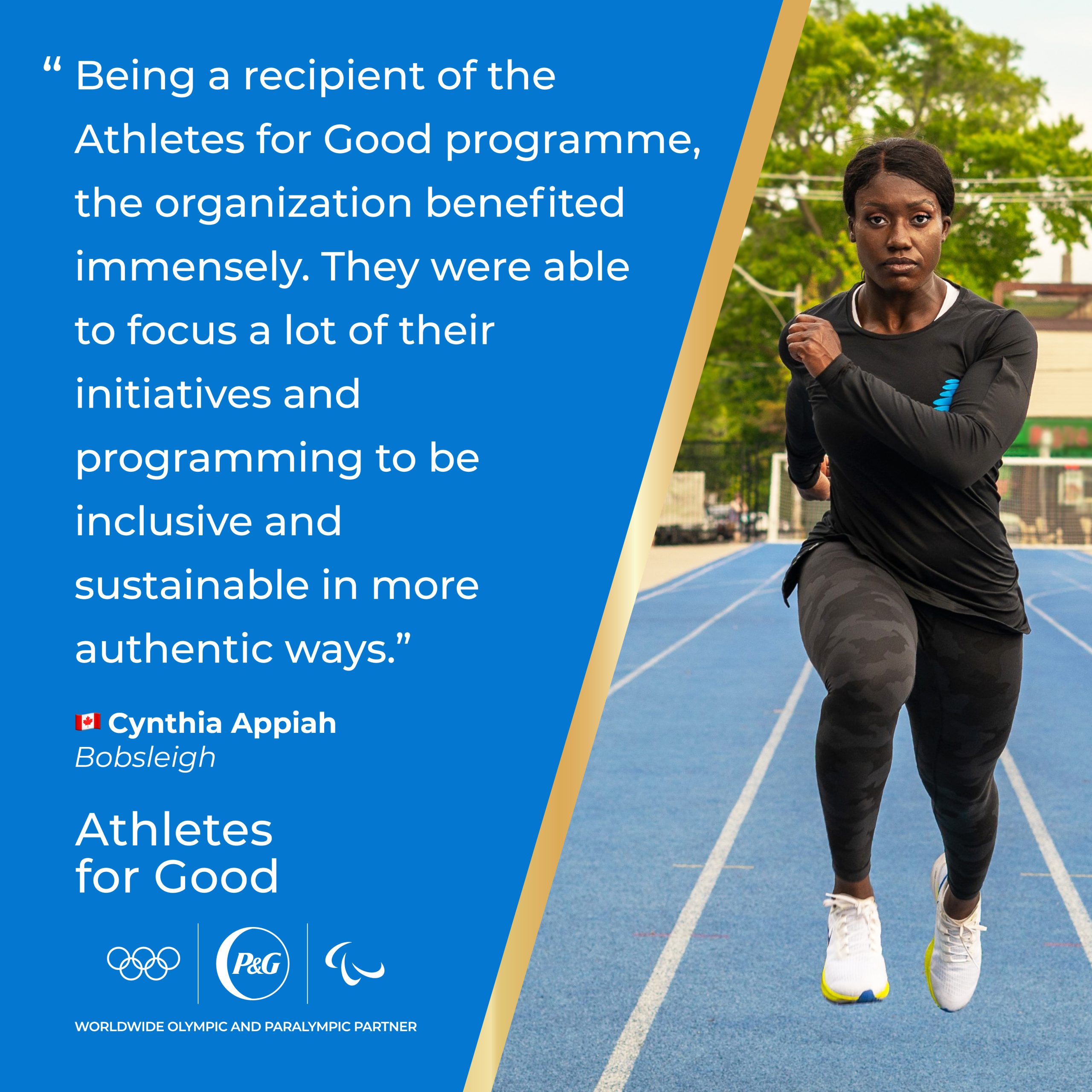 ---
IOC Climate Action Awards 2023
Climate change is increasingly affecting the global athlete community, with rising temperatures and extreme weather conditions across the globe making it harder to practice winter sports and causing some summer competitions to take place in extreme heat and humidity. As athletes and role models within your community, you can lead by example and inspire others to make sustainable changes.
That's why the IOC are launching the Climate Action Awards, an initiative supported by Worldwide Olympic Partners (TOP) Airbnb, Deloitte and P&G to celebrate the initiatives that athletes and other Olympic Movement stakeholders have been implementing in the areas of sustainable travel, innovation and advocacy.
Learn more about the different categories and how to apply here.
---
Calling all Quebec OLY: Get involved with Jouez Gagnant
Do you want to inspire young people across Quebec with your story as an athlete? Do you want to make young people dream by proposing winning strategies? Do you want to share your love of sports and the values you have learned? Jouez gagnant is recruiting!
Primarily known in the school environment, Jouez gagnant! is the promotional component of Programme Équipe Québec. It's also your introduction or improvement program in public speaking! Last year, they met more than 50,000 young people, through 495 conferences, working with 30 excellent athletes.
Never given a conference before? A mentor can help you write your story and explain the process.
You don't have much time? They will suggest conferences according to your availability. Some athletes do 20 per year, others only do 2 or 3!
You will receive compensation for your time spent at the school. The INS Quebec will also reimburse your mileage and meals. Is this something you might be interested in? If so, please reach out to Marina Lord at mlord@insquebec.org.
---
Minister of Sport's Funding for Mental Health
On December 12th 2022, the federal Minister of Sport, the Honourable Pascale St-Onge, announced that an investment of $2.4 million would be allocated towards support for the Canadian mental health strategy for high performance sport. Read the full article here!
---