As Team Canada Olympians, we all have different stories, different journeys. The potential in our legacies, though, is very much the same. In fact, we are the only permanent members of the Olympic Movement in our country and around the globe. With this comes the opportunity to create positive change. It is an inspiring mission to share and an important responsibility to uphold.
The OLY CANADA LEGACY GRANT can help you do just that.
If you are retired from Olympic participation as an athlete and are leading a project in your community, or even just thinking about a new initiative – no matter how big or small – this grant program was created for you. To help support this work, the Canadian Olympic Committee (COC) is excited to introduce the OLY CANADA LEGACY GRANT: A pilot project consisting of individual grants worth $5,000 each, awarded to five (5) successful candidates.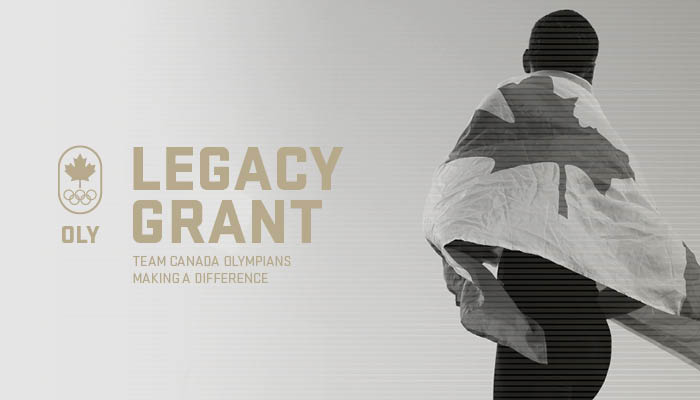 This new pilot program is designed to advance Olympism by providing financial assistance to Team Canada Legacy Olympians to share your legacy. It was created for extraordinary people who want to get involved and build stronger communities through the Olympic values.
It's an opportunity to make a difference.
There are many of us out there actively working on interesting, valuable and meaningful initiatives. Why not reach out to the COC to take advantage of this new resource and help our ideas grow?
ELIGIBLE APPLICANT
Team Canada Legacy Olympians currently residing in Canada are eligible to apply for the OLY Canada Legacy Grant. This is an initiative offered exclusively to retired Team Canada Olympians. To be eligible, applicant(s) must be in compliance with and not be under sanction under the Olympic Charter, the World Anti-Doping Code and the COC Policy Statement and Guidelines on Conduct.
ELIGIBLE PROJECT
To be eligible for the OLY Canada Legacy Grant, project submitted by applicant must:
• Be led and controlled primarily by the eligible applicant (or a group of eligible applicants);
• Be considered not-for-profit;
• Be consistent with the values of the Olympic Charter, the World Anti-Doping code, and the COC Policy Statement and Guidelines on Conduct;
• Be implemented primarily during the calendar year of receipt of the grant (2019).
Eligible projects will be considered by the COC and evaluated for the OLY Canada Legacy Grant as per the following criteria. Kindly note that such criteria is not exhaustive and other eligible projects may be considered for this program:
• Olympic values of Excellence, Respect and Friendship are inherent in your project;
• Project aligns well with COC's priorities in Olympic Education (Canadian Olympic School Program) and/or Diversity and Inclusion. More specifically, the project could be inclusive of the LGBTQ+, Women in Sport, Newcomers and/or Indigenous communities;
• Project supports COC's effort of furthering the conversation around clean and ethical sport;
• Project aligns with the World Olympians Association (WOA) in promoting Olympism in Society;
• Project is sustainable (i.e. permanent or recurring) and is intended to leave a lasting legacy in the community. One-time projects will also be considered if evidence of a long-term positive impact on the community is demonstrated.
Examples of possible projects, subject to meeting eligibility criteria above, include: Sport camps and clinics, Olympians giving back to community (sport and non-sport related), mentoring, school visits, podcasts, etc. Think OUTSIDE the box!
Eligible applicants can submit a maximum of one (1) project. All eligible projects must be submitted to the COC using the APPLICATION FORM no later than Friday, February 22, 2019, 23:59 Eastern Time. All sections of the form must be duly completed by the applicant to be valid. No other form of application will be accepted.
The below steps will be followed to select the eligible projects to the Program:
• January 29, 2019: Call for 2019 applications;
• February 22, 2019: Deadline to submit 2019 applications by 23:59 Eastern Time;
• March 2019: Communication to successful applicant(s)/project(s);
• March-April 2019: Announcement of 2019 OLY Canada Legacy Grant recipients.
GRANT CONDITIONS
The OLY Canada Legacy Grant being awarded to successful project(s) is subject to selected applicant entering an agreement with the COC before to outline expectations of the grant project(s) which may include, without limitations; requirement to produce a progress update mid-project (Key Performance Indicators review) and project report/presentation after year 2019, responsible use of the grant for the project, compliance with code of conduct, media/social engagements, etc.
COC COMMITMENTS
For the year 2019, the COC is committed to:
• Making the grant payment to successful project(s) by no later than Monday, April 15, 2019;
• Promoting the successful project(s) via COC-controlled platforms such as the OLY Canada website (OLY Life), Team Canada website (olympic.ca) or Team Canada social media channels (Instagram, Twitter, etc.).
If you have any questions regarding this program, you can always reach out to us at OLY@olympic.ca.
***
Get involved, inspire change.